Silahkan hubungi kami jika ada masalah.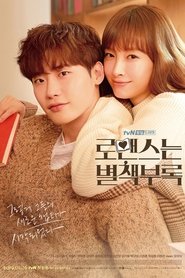 Romance is a Bonus Book
Title: 로맨스는 별책부록 / Romance Is a Bonus Book
Also known as: Romance Is a Supplement / How To Publish Love
Genre: Romance, Comedy
Episodes: 16 (To Be Confirmed)
Broadcast network: tvN
Broadcast period: 2019-Jan-26 to 2019-March-17
Air time: Saturday & Sunday 21:00
Sinopsis
Drama ini adalah tentang kisah cinta antara dua orang di usia 30-an, yang bekerja di dunia penerbitan.
Cha Eun Ho (Lee Jong Suk) adalah seorang penulis jenius dan pemimpin redaksi termuda di perusahaan penerbitannya. Dia pintar dan tampan. Dia bahkan marah di tempat kerja, tetapi dia memiliki hati yang hangat dan kepribadian yang masuk akal.
Sementara itu, Kang Dan Yi (Lee Na Young) dulunya adalah copywriter yang populer, tetapi dia tidak lagi. Dia sekarang bangkrut dan menganggur. Meskipun ia mencoba mencari pekerjaan, karena karirnya yang mengesankan dan latar belakang pendidikan yang sangat baik, ia tidak dapat menemukan pekerjaan baru. Akhirnya, Kang Dan Yi mendapatkan pekerjaan dengan berbohong tentang latar belakangnya di sebuah perusahaan penerbitan tempat Cha Eun Ho bekerja sebagai pemimpin redaksi. Mereka mulai mengembangkan perasaan romantis satu sama lain.
TV Status: Returning Series
Duration: 65 min
Release: 2019