Gunakan Server Lainnya Jika Server 1 Error. Misal Server 2 atau Server 3.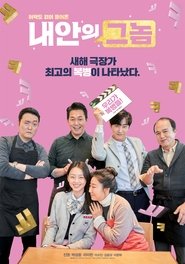 The Dude in Me 2019
The Dude In Me
Details
Movie: The Dude In Me / Inside Me
Revised romanization: Naeanui Neukom
Hangul: 내안의 그놈
Director: Kang Hyo-Jin
Writer: Shin Han-Sol, Jo Joong-Hoon, Kang Hyo-Jin
Producer: Kim Dong-Joon, Lee Seo-Yeol, Lee Seung-Hyo
Cinematographer: Son Sam-Woong
Release Date: January 9, 2019
Runtime: 122 min.
Genre: Fantasy / Comedy / Switched Bodies
Distributor: TCO
Language: Korean
Country: South Korea
Synopsis
The Dude In Me bercerita tentang anak SMA yang sering mengalami kasus bullying bernama Kim Dong-Hyun (Jin Young) dan ketua Gangster Jang Pan-Soo (Park Sung-Woong) yang tidak sengaja harus bertukar tubuh.
Kim Dong-Hyun yang menjadi korban bullying, suatu hari terjatuh dari lantai atap gedung sekolahnya. Namun ketika jatuh, ia tak sengaja menimpa Jang Pan-Soo yang sedang berada di bawahnya.
Setelah sadar, Jang Pan-Soo justru terbangun di rumah sakit dengan berada di tubuh anak SMA Kim Dong-Hyun. Sedangkan tubuh Jang Pan-Soo sendiri belum sadarkan diri, dan jiwa Kim Dong-Hyun masih belum kembali.
Jang Pan-Soo terpaksa harus bersekolah dan mencoba menemukan penyebab kenapa Kim Dong-Hyun harus terjatuh dari atap sekolahnya. Ia juga harus berurusan dengan teman-teman sekolah yang pernah membully-nya, dan berbalik melawan mereka.
Kisahnya semakin menarik, ketika Jang Pan-Soo harus bertemu kembali dengan cinta pertamanya Oh Mi-Sun (Ra Mi-Ran), yang merupakan ibu dari teman sekelasnya Oh Mi-Sun (Lee Soo-Min).
Duration:
Quality: HD
Release: 2019